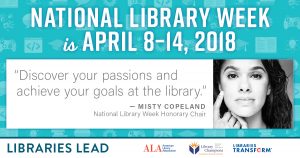 LIBRARIES LEAD 
Be Part of National Library Week!
We are continuing to seek compelling library stories that demonstrate the value and impact of libraries in our communities.  How is your library a leader in the community?  Are you looking for ways to demonstrate the tangible benefits of your library beyond the numbers?  Join us in the effort. Now more than ever, telling our story is critical.  We'll share stories in Albany during Advocacy Day  (February 28, 2018) and at the Celebrating Westchester Libraries Breakfast on April 6, 2018 at Doral Arrowwood.
What is it?
System-wide and national marketing campaign to promote libraries
Opportunity to share compelling stories that support libraries as relevant and transformative community organizations in their community
Stories will be compiled in the Annual Celebrating Westchester Libraries Breakfast Program.
Why should I do it?
Significant county-wide exposure for your library
No cost to participate
Need help?  Call Pat Brigham, WLS Director of Development.  Call or email to arrange: pbrigham@wlsmail.org  or 231-3241.